For those of you who didn't know, my band is known as One-ted. My
drummer
is heading the band. So far, he's one person that keeps on improving musically all the time. He's had the chance to play
in front
of Mia Palencia. One day, I think he
will
play with Mia Palencia. As for now, he's played for Juwita Suwito. Recently, he offered to be a sessionist for this local band called The HaHas.
So far he's had one gig with them. On the following gig, they invited us (as in One-ted) to play with them. It was last minute notice, but we jumped at it anyhow. Unfortunately, 2 of our band members couldn't make it. One was flying off to Oz land for a conference, and the other had a company holiday. So we were a 3 piece. Then we decided that we could be a quartet if we invited the *half-korean keyboardist to join us for this gig. On such last minute notice, he agreed.
Imagine this, we were informed on Tuesday about the gig, we invited the half-korean on Wednesday, we learned the song and practiced on Thursday, and played the gig on Friday. Sweet. It wasn't as great as we expected, neither was it bad. In my opinion, for such a short notice and that 2 hour practice, we did quite OK.
The place we gigged in was called Rhasta Shack.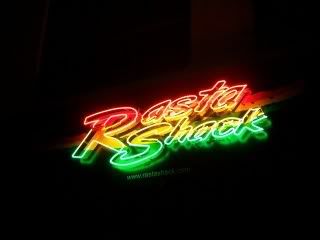 It was a small place opposite Menara The Star. 3 bands played that night: The One-ted, The Hahas, and The Wave. It's all 'the' something.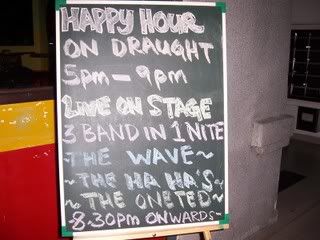 There was hardly anybody. At most, there was less than 20 people in the crowd, say, even less than 15. And half of the spectators were from the other 2 bands. So it was a small crowd. The good thing about small gigs such as this is that we get to mess up and learn from experience without too many people watching the blunder. Some bands mature by doing lots of gigs and making all the mistakes they can, and then learning from it and improving on their band. Not all bands start of big and great. Some had to go through years of toiling and messing up before they made it. We haven't had the opportunity to play in a lot of gigs. So, this was one of the rare opportunities.
We did 4 songs. 2 of them was our songs and 2 more were covers. Our songs were All These Time and Out Of Here. The covers we did were Linkin Park's What I've Done and Incubus' Drive. We pulled off all the songs really well, with the *half-korean doing his 'thing' on the keys and backing up on vocals. The bassist sang for the covers. Thank God his voice was high enough to hit the notes. The drummer...was well....the drummer.
I eventually screwed up on Drive, when I left the tuner function ON, instead of turning it off. This made the guitar sound funny and when it was time to execute the solo, I stepped on the pedal, and nothing happened! There I was playing some stupid notes without the effects (which totally caught me off guard) and looking kinda stupid. After that, I was looking face-down all the way. Well, that's the good thing about small gigs. You get to mess up without so many people seeing you mess up. At least I managed to get some exposure and experience, and learn a valuable lesson: if you're using a multi-effect pedal, always check that your tuner is off before you start playing.
Here are some pictures of the gig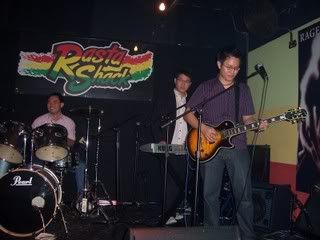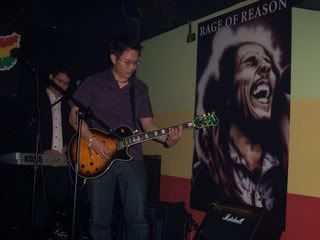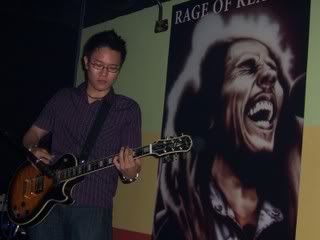 And this were the stupid stuff we did after the gig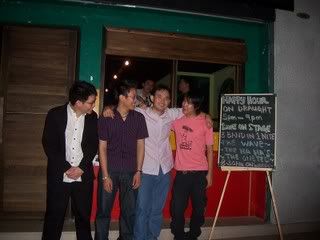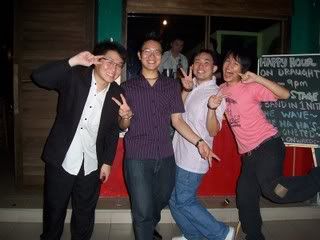 before we finally got to our senses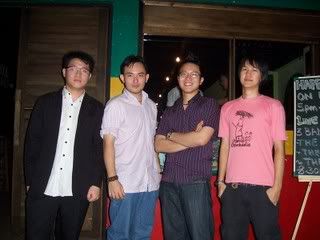 from left to right : *half-korean, drummer, me, this.bassist.is.
By the way, just want to say a big
thank you
to the 2 people that came to support us even though they were supposed to go to another gig. Much appreciated.
*the half-korean appears courtesy of
PG165