Yesterday, Knil Army had a gig at Berjaya Times Square for a world peace event called Peace Day. I didn't know what this event was all about, other than promoting peace to this fallen world. I didn't know who else were playing or what was gonna happen. I was jsut excited that I got to play at a gig.
When I reached the concourse, I saw the audience...kids??!! not exactly kids, but more of young teenagers...mostly girls and some boys...and their parents who were keeping careful watch from the back.

After awhile, I realised these kids were not interested in the other bands that were going up to perform (us included), but they were waiting ...the whole day....for this Taiwanese boy-band called 5566. Till they got a glimpse of the boy-band, they were just looking, tired, dead, and lifeless. The band before us were screaming their hearts out...but the audience were unmoved.
When our turn came, we just went up and we knew from the start that this wasn't goign to be about people listening to us. We didn't care. We prayed. If God inspired for these songs written by Jack to come about, we prayeed that it would somehow touch people, eventhough they were wordless songs. We went up, set up our stuff and were ready to rock the show...except we didn't have rockers for fans.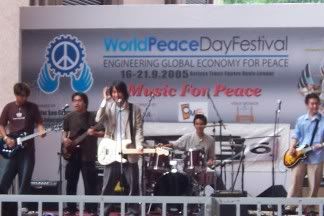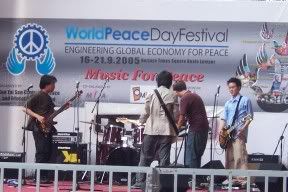 Jack addressed the audience...and was greeted by hardly a response. It was ok. We played our first song, All-Asian Tragedy, a tribute to those that died during the tsunami end of last year and the victims of Hurricane Kathrina which happened recently. No response. We moved on to Shine, a song with a Chinese feel to it. Still no response. I pity the crowd. Coz they look so bored, while we were having the time of our life on stage! Then we played, A Toast For Our Tomorrow. Jack dedicated this song to all the young people out there. The reason behind this song was to celebrate young people who are so full of potential, who are capable of making history and making changes. When we played our final song, Guidance, that was when I messed up:P Made a couple of blunders, but I bet the crowd coudn't tell a thing. (Jack, if you're reading this, I'm sorry I messed the song up:( ) That was the craziest song in our line. I enjoyed it.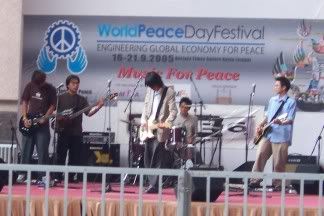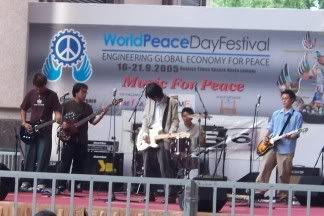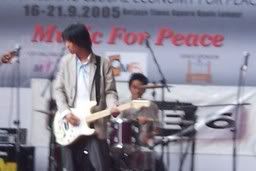 After all was over, the crowd was waving posters and banners of 5566 at us. But I don't regret playing.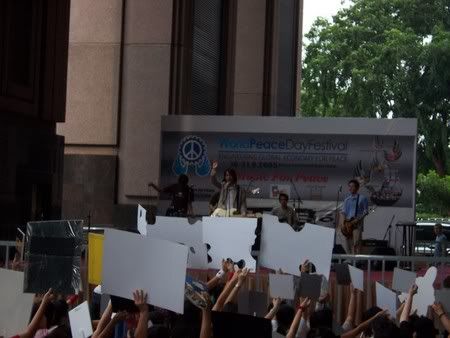 To me, this was an opportunity to display our music. We weren't discouraged. We just wanted to play music. Good music. Though our songs didn't have words, I still feel moved each time I hear it. Some songs are just better without words. Sometimes, words just get in the way.
I am thankful to our friends who came all the way to support us. Though they were the minority...urm, i think about ( >0.5% ) of the entire crowd, they were cheering us on. I'm so so thankful for you guys being there:) One of them came all the way, only to miss the whole show, because of timing. But I still apprciate that, bro!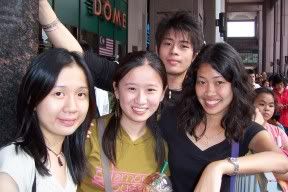 The camera gal was taking the pic:P
To Knil Army : Keep making good music! God bless us all!