quote of the day:
we s**t like hamsters breed!
today i felt a bit...well, homey...whatever that is. kinda felt i wanted a home-kinda feeling. was thinking about getting myself a pet hamster. maybe one cute one will do. the kind that won't grow too big...wat's it called...hmmm...Dwarf hamster, i think. or maybe i'll get the Panda hamster. they're small, and can't grow too big. yeah, thinking bout a lil cage with a lil wheel for it to exercise. hmm...some small cage, that doesn't take up too much space. (well, when i get bored of it, i might let it play with the cats roaming about my apartment...ooo fun!)
anyways, while thinking of it, i nearly wanted to impulsively dash out to Dengkil and get one. but i think i'm being rather rash:p will give it some deeper thought for a bit.
what's new? well, i got meself a cutie plant! was walking in Central Plaza on campus and there was some kinda fair going on. one of the stalls was selling cactus and some leafy vegetation. and i saw this hanging-pot with a lil cute plant...and suddenly, i felt i wanted a plant in my room...must be that homey feeling:p after much consideration, i bought it. there were a few types. the one i really wanted was in a pot that was made of a snails shell...a really large snail! but it looked kinda mesy with all the earth sticking out of it..on 2nd thoughts, i wouldn't want my room to be dripping with soil (i'm gonna place the cutie plant in my room). so i got one that was in a cute pot..that had a tiny wooden kinda fence behind it. now, it hangs proudly from my curtain railing, against my window:)
the reason for the quote of the day came over supper. a few of us were eating and i was talking about my plans to get a hamster. the conversation was something like this (i can't exactly remember the sequence, too many things happening alla t once. so sorry if i got it all mixed up):
me : i wanna get a hamster.
cy : u crazy ar!
nwcx : don't la...
mel : why??
mel : y?
*blah! blah! blah!*
me :
hamster breed like s**t
, man!
mel : what's the connection? how can hamsters breed like shit?
cy : he means we humans have to s**t everyday...so hamster breed as often as we s**t lah!
mel : oh! *revelation*
*blah! blah! blah*
cy : so it means we can say that we
s**t like hamsters breed
??
it's all crappy conversation! but what the heck. it was fun...lots of good laugh...that's a good closing for a filled day.
other versions:
-
breed like hamsters s**t
-
breed like we s**t hamsters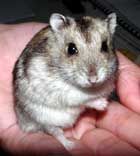 nitez